In the heart of Texas lies Houston, a city known for its dynamic spirit, diverse culinary scene, and homes that tell stories of generations. But as time marches on, even the most cherished spaces in our homes – like our kitchens – can benefit from a rejuvenating touch. Embarking on a kitchen remodel isn't just about changing tiles and countertops; it's about reshaping the soul of your home. A kitchen remodel is more than a renovation; it's where family recipes get a new backdrop, where friends gather around modern comforts, and where memories are baked into every refreshed corner.
So, when the thought of a kitchen remodel crosses your mind, remember it's not just about aesthetics; it's about creating a space that resonates with your heart. Whether you're a seasoned Houstonian or a newcomer to this bustling city, diving into a kitchen remodel can be both exhilarating and daunting. But fear not! This article will illuminate the path to your dream kitchen remodel, ensuring your renovated kitchen space is not only functional but also a reflection of your unique taste and Houston's vibrant character.
Before Your Kitchen Remodel Project
Why Remodel Your Kitchen?
We've all had that moment, standing in the heart of our home – the kitchen – and feeling a pang of desire for change. Maybe it's the outdated cabinets, the worn-out countertops, or just the overall vibe that doesn't resonate anymore. This is where the magic of a kitchen remodel comes into play. Especially in a vibrant city like Houston, where trends evolve rapidly, keeping your kitchen updated can significantly enhance your home's value and functionality. Now, if you've been typing "kitchen remodel near me" into search engines, you're not alone. Many Houston residents are on the lookout for the perfect experience of kitchen remodeling in Houston.
Seven More Compelling Reasons to Remodel Your Houston Kitchen:
Boost Your Home's Value: In Houston's competitive real estate market, a modern and updated kitchen can significantly increase your home's worth. It's not just a facelift; it's an investment that often offers substantial returns.
Embrace Houston's Culinary Diversity: Houston is a melting pot of cultures and cuisines. A remodeled kitchen gives you the space and functionality to experiment with diverse recipes, from Tex-Mex to Vietnamese, ensuring every meal is a culinary adventure.
Adapt to Houston's Climate: Our city's unique weather, with its humid summers and mild winters, demands specific materials and designs. Remodeling allows you to choose materials that stand up to the humidity, ensuring longevity and ease of maintenance.
Reflect Your Personal Evolution: Just as Houston is ever-evolving, so are we. Maybe you've picked up new cooking habits, or your family has grown, or perhaps your style has simply changed. A kitchen remodel lets your space evolve with you, ensuring it always feels like home.
Show Off Your Unique Style: A kitchen isn't just a functional space; it's a canvas for your personal style. Remodeling allows you to infuse your kitchen with your personality, making it a space you're proud to show off to friends and family.
A Selling Point for Potential Buyers: If you ever decide to sell your Houston home, a beautifully remodeled kitchen can be a major selling point. Buyers often prioritize the kitchen, and a modern, functional space can be the difference between a quick sale and a prolonged listing.
Achieve More with Your Kitchen: Whether it's additional storage, increased counter space, or a more open layout, remodeling can help you maximize your kitchen's potential. It's about making your kitchen work for you, ensuring every inch serves a purpose and enhances your daily routines.
Choosing the Right Contractor for Your Kitchen Remodel
The journey of kitchen remodeling begins with a crucial step: selecting the right contractor. Houston, with its sprawling neighborhoods, hosts a plethora of contractors. But here's the catch: they're not all cut from the same cloth. While searching for "kitchen remodel near me," you'll come across a myriad of options. Dive deep into reviews, seek recommendations, and remember, the ideal contractor isn't necessarily the cheapest. It's someone who grasps your vision for the kitchen remodel and can bring it to life seamlessly.
Budgeting for Your Kitchen Remodel
We will always be honest with our customers, money talks, especially when it's about kitchen remodeling. Setting aside a budget isn't just about counting pennies; it's about envisioning what's possible. In Houston, where the cost of living and standards vary, understanding the financial aspect of a kitchen remodel is paramount. From labor charges to the price of materials and those sneaky unexpected expenses, having a clear financial blueprint can be a lifesaver. It ensures you don't overspend, and more importantly, it guarantees that every dollar spent is a step closer to your dream kitchen.
So to summarize what to expect before your kitchen remodel:
Dream & Visualize: Grab a cup of your favorite Texan brew and let your imagination run wild. Think about what you want your Houston kitchen to feel and look like. Pinterest boards, anyone?
Budget Wisely: It's not just about numbers; it's about value. Decide what you're willing to splurge on (that Italian marble, perhaps?) and where you can save without compromising quality.
Choose the Right Contractor: Not all contractors are created equal. Look for someone who gets Houston, understands your vision, and comes with glowing local reviews. Gulf Remodeling's Team has over 17 years of experience.
During Your Kitchen Remodel Project
What to Expect
There will be moments of excitement, bouts of impatience, and a sprinkle of chaos. Noise will become your temporary soundtrack, and dust might just be your unwanted guest. But amidst this whirlwind, there's a silver lining: witnessing your vision unfold. The key is communication. Regular chats with your contractor can keep you in the loop, ensuring that the kitchen remodeling process is on track.
Handling Delays and Issues
Let's face it; no journey is without its hiccups. And in the world of kitchen remodeling, delays are often par for the course. Maybe it's a sudden shortage of that Italian marble you wanted or an unforeseen plumbing challenge. While these setbacks can test your patience, especially when you're eager to see the final result of your kitchen remodel, trust is essential. Believe in your contractor, understand that issues are part and parcel of the process, and remember: good things take time.
Living Through a Kitchen Remodel
Houstonians are known for their resilience, and living through a kitchen remodel is a testament to that. It's not always a walk in the park. Imagine prepping your morning coffee in the living room or relocating your fridge to the dining area. But here's a tip: focus on the bigger picture. A few weeks of adjustment can lead to years of kitchen bliss. So, set up a makeshift kitchen, indulge in Houston's diverse culinary scene occasionally, and keep reminding yourself of the end goal: a revamped kitchen space that mirrors your personality.
Again, to summarize this phase of what you would experience during a kitchen remodel in Houston:
Stay in the Loop: Communication is key. Regular catch-ups with your contractor can ensure your vision is unfolding just as you imagined.
Be Flexible: Houston's weather can be unpredictable, and so can remodels. Delays might happen, but remember, it's all part of the journey.
Protect Your Space: Dust and debris are part and parcel of the process. Consider temporary barriers or plastic sheeting to keep the rest of your home clean.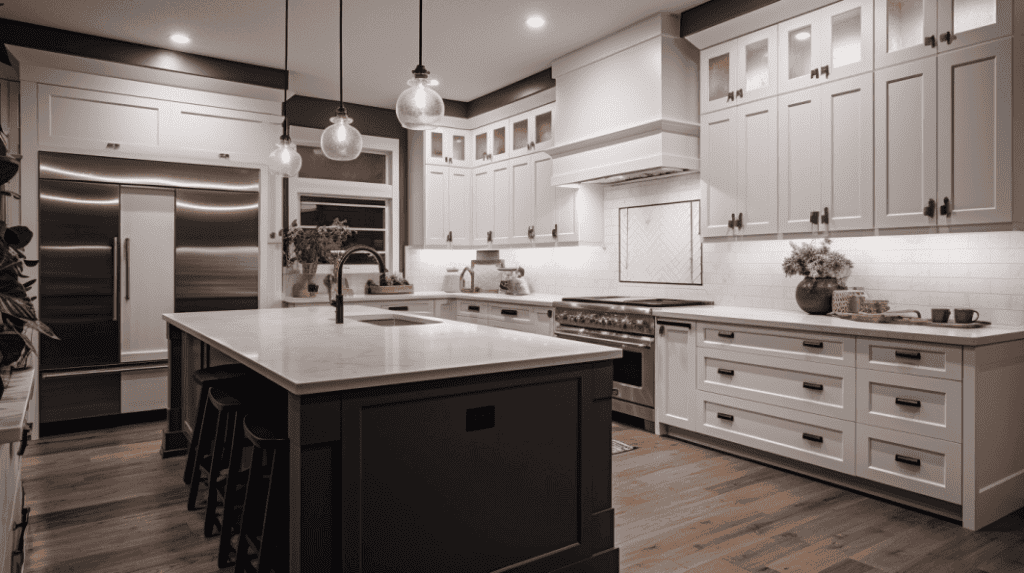 After Your Kitchen Remodel Project
Post-Project Cleanup
The euphoria of seeing your kitchen remodel come to fruition is unparalleled. But often, this joy is accompanied by a little mess. Dust settling on your new countertops, debris in unexpected nooks, and the remnants of a job well done. While some kitchen remodeling contractors in Houston offer cleanup as part of the package, others might not. If that's the case, consider roping in a professional cleaning crew. After all, your brand-new kitchen deserves a sparkling debut.
Maintenance and Upkeep
A kitchen remodel is more than just a one-time affair; it's a long-term investment. Especially in a city like Houston, where the hustle and bustle can take a toll on your home, regular maintenance is non-negotiable. Whether it's resealing your countertops, checking in on the plumbing, or just a routine cleanup, these small steps can ensure your kitchen remains as dazzling as day one. Remember, the key to longevity is care. And your kitchen, with all its new bells and whistles, deserves nothing but the best.
Enjoying Your New Kitchen
Pause. Breathe in. Look around. This is the moment you've been waiting for. Your kitchen remodel journey, from those initial "kitchen remodel near me" searches to the final reveal, has been worth it. Now, it's time to make memories. Host a Texan BBQ, whip up a family recipe, or simply enjoy a quiet moment with a cup of coffee. Your kitchen, a blend of your vision and Houston's vibrant spirit, is ready to be the backdrop for countless stories.
Finally, the most important stage of your kitchen remodel, we believe it's segmented as follows:
Inspect Together: Once the work is done, walk through the space with your contractor. It's your chance to ask questions, understand new features, and ensure everything's up to par.
Celebrate & Share: Host a little get-together. Show off your revamped space, cook up some Houston classics, and bask in the compliments.
Maintenance Matters: Your new kitchen is like a new relationship. It needs care and attention. Regular maintenance ensures it stays as beautiful as day one.
At Gulf Remodeling, we're not just about following procedures; we're about crafting perfection. We have a cherished playbook, a blend of time-tested kitchen remodeling checklists and heartfelt dedication, ensuring every project we touch radiates excellence. With us, it's not just about getting the job done; it's about getting it done right, every single time.
Kitchen Remodel Facts to Consider
Did you know that kitchen remodels offer one of the highest return on investments when it comes to home improvements? According to a report by Remodeling Magazine, minor kitchen remodels can yield an impressive 81% return on investment. Furthermore, the National Association of Realtors states that a well-executed kitchen remodel can significantly boost a home's appeal to potential buyers, with 54% of realtors suggesting sellers undertake a kitchen upgrade before listing their property. These statistics underscore the value and importance of investing in a kitchen makeover, not just for personal satisfaction but also for potential future gains.
Kitchen Remodeling's Gulf Remodeling Recommendations
Countertops: Quartz is highly recommended for its durability, low maintenance, and sleek appearance, making it a top choice for modern Houston kitchens.
Cabinets: White shaker cabinets are favored for their timeless and versatile design. Pairing them with blue island cabinets adds a pop of color, creating a vibrant focal point in the kitchen.
Flooring: Both Luxury Vinyl Plank (LVP) and tile flooring come highly recommended. LVP offers durability and a wood-like appearance without the maintenance, while tile remains a classic choice, especially for Houston's climate, providing coolness during hot summers.
Why Gulf Remodeling Stands Out Among Kitchen Remodeling Contractors in Houston:
Local Expertise: As Houston natives, we don't just work here; we live and breathe the city's vibrant culture. This intimate knowledge shapes every kitchen remodel we undertake.
Cutting-Edge Design: Our team is always on the pulse of the latest design trends, from waterfall countertops to smart kitchen integrations, ensuring your space is both modern and functional.
Material Mastery: We source only the highest quality materials, be it quartzite countertops, soft-close cabinetry, or bespoke backsplashes, ensuring durability and aesthetics go hand in hand.
Craftsmanship: Our skilled artisans bring a blend of technical prowess and artistic vision, ensuring every inch of your kitchen is crafted to perfection.
Transparent Process: From 3D renderings to detailed timelines, we believe in keeping you in the loop, ensuring your vision is realized every step of the way.
Trusted by Houstonians: Our reputation isn't just built on quality work but on trust, transparency, and the testimonials of countless satisfied Houston homeowners.
In the vast sea of kitchen remodeling contractors, Gulf Remodeling shines as Houston's beacon of excellence. We don't just remodel; we transform spaces into culinary sanctuaries that echo the heartbeats of their owners.
Get Your Free Kitchen Remodel Estimate
Let's discuss your vision, your needs, and the unique quirks of your space. And the best part? We'll provide a free estimate, no strings attached. It's our way of saying, "We're here for you." So, whether you're just toying with the idea or ready to jump in, reach out to us. Let's dream, plan, and create together.