Q1: What is the first step in my kitchen remodeling project?
A1: To initiate a kitchen remodel, begin with a clear plan. Identify your needs, style preferences, and set a realistic budget. Consider if you need more storage, if a Shaker or a traditional cabinet design is more your style, or if you need updated appliances. Once your objectives are clear, seek professional assistance for your kitchen remodeling in Houston. Contact Us to help you make these decisions and build a roadmap for your dream kitchen.
Q2: What are the cost ranges for kitchen remodeling?
A2: Kitchen remodels can vary significantly in cost, largely depending on the extent of the remodel and the materials used. On average, you can expect a minor kitchen remodel to cost between $10,000 to $15,000. A mid-range remodel might range from $15,000 to $30,000, while a high-end remodel can exceed $30,000. In Houston, kitchen remodeling costs can be diverse due to varying labor costs and materials availability.
Q3: What are the time frames for a kitchen remodel?
A3: The time frame of a kitchen remodel largely depends on the project's scale. A minor remodel such as repainting cabinets and updating fixtures can take a few weeks. A medium-scale project involving new countertops and flooring may last one to three months. An extensive overhaul, including structural changes like adding or removing beams, could take three to six months or more. In Houston, your kitchen remodeling team will provide a detailed schedule to help you plan accordingly.
Q4: What are some popular trends in kitchen remodeling?
A4: Current trends include open layouts, smart storage solutions, and energy-efficient appliances. White Shaker-style cabinets remain a favorite, while two-toned kitchens are gaining popularity. Quartz and granite countertops continue to be popular for their durability and aesthetics. For flooring, hardwood and ceramic tiles are trendy choices. In Houston, kitchen remodeling designs are all about combining functionality with personal style. Check our Trendy Kitchens Page for more inspirations.
Q5: What are some popular countertop materials?
A5: Countertop choices are abundant. Granite offers a high-end look and durability. Quartz is popular for its wide color selection and low maintenance. Butcher block adds a warm, natural touch and is perfect for food prep. Recycled glass countertops provide a modern, eco-friendly option. In Houston, kitchen remodeling projects are not complete without a countertop that complements your design and fits your needs.
Q6: What different types of lighting can I incorporate in my kitchen remodel?
A6: Good kitchen lighting comes from a mix of different types. Ambient lighting provides general illumination. Task lighting, like under-cabinet lights, focus on workspaces. Accent lighting highlights design features. Decorative lighting, such as pendant lights over a kitchen island, adds personality. Brands like Philips and Kichler offer varied options. Your Houston kitchen remodeling project should include a layered lighting plan for versatility and comfort.

Q7: Can you describe some kitchen cabinet styles?
A7: Shaker-style cabinets are classic and versatile, while flat-panel cabinets suit a modern kitchen. Traditional cabinets with ornate details add elegance. Glass-front cabinets help to visually expand the space and display your dinnerware. During your kitchen remodel in Houston, you can mix and match styles to create a unique look that reflects your personality.
Q8: How do I select a kitchen backsplash?
A8: The backsplash should complement your countertop and cabinetry. Ceramic tiles are a traditional choice, while glass tiles can add shine and a modern touch. Natural stone tiles give a timeless, organic feel. More daring options include metal tiles for a sleek look or mosaic tiles for an artistic touch. Discuss with your Houston kitchen remodeling contractor to choose the best option that ties your kitchen design together.
Q9: What types of fixtures should I consider for my kitchen?
A9: Consider fixtures that match your kitchen's style. Pull-down faucets are practical for deep pots. A pot filler near your stove makes filling pots easier. For cabinet hardware, bin pulls are great for a vintage feel, while sleek bar pulls suit a modern kitchen. Brands like Moen and Delta offer varied fixture options. Your kitchen remodeling in Houston should include fixtures that enhance functionality and style.
Q10: Can I make structural changes like removing or adding beams during my kitchen remodel?
A10: Yes, structural changes like removing or adding beams can significantly alter your kitchen's look and functionality. However, these changes need careful planning and execution. In Houston, a kitchen remodeling project involving structural changes requires specific permits. It's crucial to work with a knowledgeable contractor who can ensure the work is done safely and to code.
Q11: What types of flooring are suitable for kitchens?
A11: Kitchen floors should be durable, easy to clean, and complement your design style. Hardwood provides a warm, timeless aesthetic and is highly durable. Porcelain and ceramic tiles are ideal for high-traffic and spill-prone areas, and come in a vast array of designs. Luxury vinyl flooring is becoming increasingly popular for its affordability, durability, and water resistance. During your kitchen remodel in Houston, the right flooring choice will combine functionality with style.
Q12: How can I integrate technology into my kitchen remodel?
A12: Smart appliances like ovens that can be controlled remotely, or refrigerators that can track your groceries, are becoming increasingly popular. Touchless faucets and lighting controlled by voice or motion sensors add convenience. For your kitchen remodeling in Houston, integrating smart technology can enhance kitchen functionality and create a modern, sophisticated environment.
Q13: How can I improve the functionality of my kitchen?
A13: Consider the kitchen work triangle concept which positions the sink, stove, and refrigerator for optimal efficiency. A kitchen island can add workspace and storage. Custom cabinets can be designed for specific storage needs. During your kitchen remodel in Houston, your design should aim for a balance between aesthetic appeal and functionality.
Q14: Can I keep my kitchen eco-friendly?
A14: Absolutely! Choose energy-efficient appliances, LED lighting, and sustainably sourced materials to reduce your kitchen's environmental impact. Water-efficient faucets can also help conserve water. During your kitchen remodeling in Houston, our team can suggest eco-friendly options that align with your design and budget.
Q15: What design style options are available for my kitchen remodel?
A15: From traditional to contemporary, rustic to industrial, there's a design style for everyone. Traditional kitchens feature detailed molding and classic tones, while contemporary designs showcase sleek lines and minimalist aesthetics. Rustic styles use natural materials for a cozy feel, and industrial designs incorporate elements like exposed brick and stainless steel. Your kitchen remodel in Houston can reflect your personal style while remaining functional.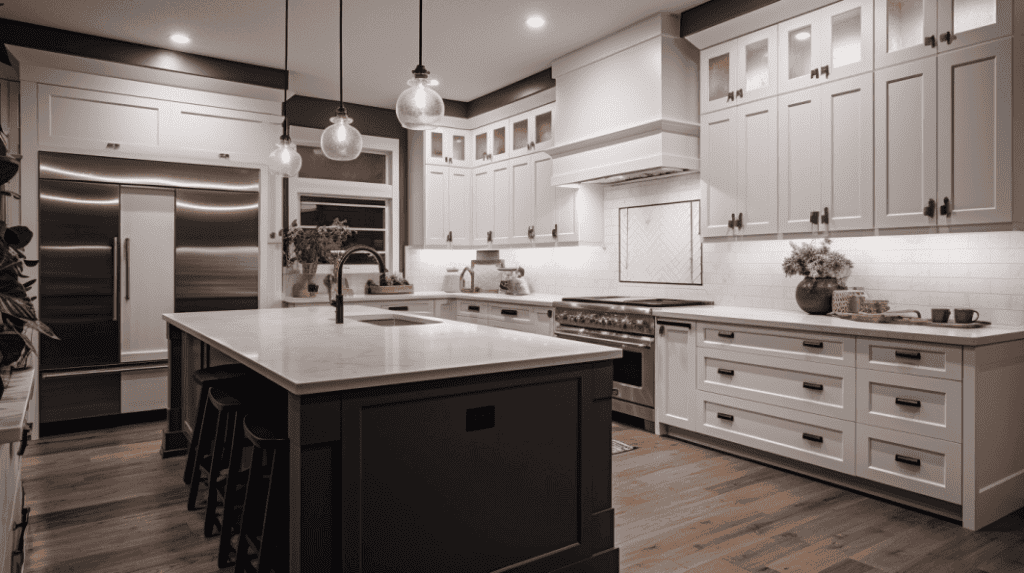 kitchen-remodeling-in-houston-before-after-pictures-gulf-remodeling
Q16: What permits will I need for my kitchen remodel in Houston?
A16: Depending on the extent of your remodel, permits may be needed. Major changes like moving plumbing or electrical systems, adding or removing walls or windows, or changing the home's structure typically require permits. In Houston, kitchen remodeling permits can be obtained from the City of Houston's Permitting Center.
Q17: How do I ensure that my kitchen remodel is a worthwhile investment?
A17: Choose timeless over trendy, invest in high-quality materials, and improve your kitchen's functionality. A well-planned and executed kitchen remodel can significantly increase your home's value, particularly in competitive markets like Houston.
Q18: How can I maximize storage space in my kitchen?
A18: Use vertical space with floor-to-ceiling cabinets, add a pantry for food items, use drawer organizers for utensils, and consider a kitchen island with storage. During your kitchen remodeling in Houston, we can provide customized storage solutions for your space.
Q19: How can I make my small kitchen feel bigger?
A19: Use light colors to make your kitchen feel more open. Open shelving can reduce visual weight, and a mirrored backsplash can give the illusion of more space. Our team for kitchen remodeling in Houston can provide expert solutions to make the most of your small kitchen.
Q20: What are the benefits of hiring a professional kitchen remodeling contractor in Houston?
A20: A professional contractor ensures that your kitchen remodel is completed to code, on time, and within budget. They coordinate all aspects of the project and can provide design guidance. At Gulf Remodeling, our Houston kitchen remodeling services ensure a seamless transformation from start to finish.
Q21: Can I include an island in my kitchen remodel?
A21: Yes, kitchen islands are a popular feature that can provide additional counter space, storage, and seating. Depending on the size of your kitchen, an island can be customized to fit perfectly. However, you must ensure there's enough space around the island for easy movement. When you plan your kitchen remodeling in Houston, we can help determine if an island is a good fit for your space.
Q22: How can I incorporate natural light into my kitchen design?
A22: Maximizing natural light can make your kitchen brighter and more inviting. Consider larger windows or a skylight. If these aren't options, consider a light color scheme and reflective surfaces to help bounce light around the room. For your kitchen remodel in Houston, we can suggest optimal ways to utilize natural light in your design.
Q23: How can I add a personal touch to my kitchen remodel?
A23: There are many ways to add personal touches to your kitchen. Display treasured items on open shelving, choose a backsplash that reflects your style, or add unique cabinet hardware. When planning your kitchen remodeling in Houston, we can help you find ways to infuse your personal style into every detail.
Q24: Can my kitchen be remodeled to accommodate aging in place?
A24: Absolutely! Features such as lower counter heights, pull-out shelves, a wall oven, and a walk-in pantry can make your kitchen more accessible. Lever-style door handles and faucets are easier to operate than knobs. For your kitchen remodeling in Houston, we can help design a kitchen that will serve you comfortably and safely for years to come.
Q25: What are some ways to keep my kitchen remodel eco-friendly?
A25: Opt for energy-efficient appliances and LED lighting, use sustainably sourced materials, and consider water-saving fixtures. Also, recycling old appliances and materials during your kitchen remodel is another way to lessen the environmental impact. During your kitchen remodeling project in Houston, we can provide eco-friendly options to create a sustainable, green kitchen.
This concludes our list of frequently asked questions about kitchen remodeling (read another Kitchen Remodel FAQs list here). We hope this has been helpful in planning your kitchen remodel. At Gulf Remodeling, we are dedicated to providing top-quality kitchen remodeling services in Houston. We'd be delighted to help you create the kitchen of your dreams!
---